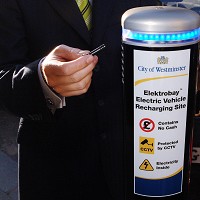 Motorists who place green issues at the top of their list of factors when making a decision on which car to purchase may want to consider Mitsubishi's latest offering.
The Japanese car manufacturer has announced a spring launch date for a plug-in hybrid electric vehicle (PHEV) version of its new Outlander.
The design and performance of the 4x4 SUV also satisfies requirements that mean it is exempt from the London Congestion Charge, which is an extra bonus for motorists who regularly travel in the capital.
The policy regarding exemption changed earlier this year. Before July 1 all hybrid vehicles were exempt from paying the charge but tougher rules requiring them to be able to travel more than 10 miles using electric power alone, while emitting less than 75g/km of CO2, have meant that fewer vehicles meet the standards.
This has not been a problem for the Outlander PHEV which can travel 32 miles in EV mode, allowing motorists to reach destinations much further afield using just its electric motors.
The cost savings do not stop there though, as the Outlander PHEV can achieve up to 148mpg and only emits 44g/km CO2, it is claimed.
Copyright Press Association 2013