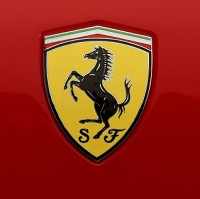 A rusting classic 1961 car has sold under the hammer for nearly £12 million.
The "lost" Ferrari California Spyder was one of 59 motors found gathering dust last year in a French farm's barn for half a century.
The successful bidder was certainly buying a car with pedigree. French acting legends Alain Delon and Gerard Blain have both owned the vintage model, while other screen icons Shirley MacLaine and Jane Fonda have been pictured in it.
Only 37 were ever made. The 250 GT SWB was likened to a discovery that was the classic cars industry's equivalent of Tutankhamun's tomb.
The treasure trove sold for a total of £20 million at Paris's Retromobile Show last Friday (February 6), having been found under newspapers in outbuildings and garages by their late owner's grandchildren.
Other hidden gems included a Talbot Lago T26 Grand Sport SWB and Maserati A6G Gran Sports (1956).
The former went for more than £1.2 million, while the former, enhanced by Frua coachwork, fetched £1.4 million.
Copyright Press Association 2015