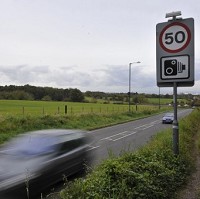 Speeding is still the most common driving offence, the latest IAM figures suggest.
More speedsters - 148,426 - were found guilty before a courtroom in 2014 than any other road criminal, according to the Institute of Advanced Motorists.
The safe driving charity says the 2014 figure is up worryingly 28% on the 115,935 offenders found guilty a year previously. It is also 2% higher than the figure recorded in 2004.
Car insurance crimes are the next most common driving misdemeanour with 118,254 convicted offenders. This figure may be a 7% hike on the 2013 number, but represents an 84% fall on the 218,142 convicted offenders in 2004.
Excise duty, car registration and drink-driving are further driving-based felonies which have seen huge drops over the past decade.
Other guilty verdict crimes topping the 15,000 include ignoring road regulations, using mobile phones or related offences, and driving licence misdeeds at 16,951, 16,025 and 15,982 respectively.
Causing serious injury by dangerous driving and other new offences are beginning to feature more prominently in these lists.
IAM CEO Sarah Sillars says motorists and authorities must guard against complacency, despite encouraging falls in several sections of the data.
Such behaviour entails always remembering that speed is a killer and maintaining the high profile of local road safety initiatives, she adds.
Ms Sillars believes that increased "visible policing" is the answer to prevent motorists getting away with driving too fast.
Copyright Press Association 2015