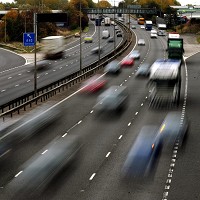 Nearly 2,800 drivers were caught speeding in two East Anglian counties during a week-long European enforcement campaign.
Officers from the joint Roads Policing Unit and vans from Suffolk SafeCam and the Norfolk Safety Camera Partnership were deployed across both counties during the initiative.
It was led byTISPOL - the European Traffic Police Network.
The campaign to increase checks and enforcement, which ran between April 15-21, saw a total of 2,773 drivers caught speeding.
Abreakdown of these offenders shows that 571 of them were caught by fixed cameras, and the other 2,202 were caught by police officers on patrol or mobile cameras.
Chief Inspector Chris Spinks said that speeding is one of the 'Fatal Four' driving offences alongside drink driving, using a mobile phone and seatbelt offences.
He said: "The TISPOL week of action is a good way to focus attention on speeding and the risks you take when you go over the limit."
Some offenders received a fixed penalty notice. Others face possible prosecution if they were driving excessively over the restriction.
Copyright Press Association 2013