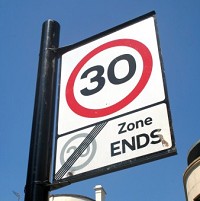 The percentage of drivers breaking the 30mph speed limit has plummeted by a third in 12 years, according to new figures.
Back in 1998, more than two thirds (69%) of motorists on 30mph roads exceeded the limit, but by 2010 that figure had dropped to 46%, suggesting speed awareness campaigns may be working.
That idea is backed up data which reveals that speeding offences in England and Wales have fallen away quickly over the past few years after a large spike in the 1990s.
Tough economic times may also encourage drivers to slow down to conserve fuel and drive more safely, thus avoiding crashes which could send their car insurance premiums soaring.
The number of drivers exceeding 35mph has dropped even more dramatically, according to the report from the RAC Foundation and the Parliamentary Advisory Council for Transport Safety (Pacts).
In 2001, almost a third (32%) of drivers on 30mph roads were travelling at over 35mph, whereas by 2010 that figure had been slashed to 16%.
RAC Foundation director Professor Stephen Glaister said: "Even as ministers discuss raising the motorway speed limit to 80mph, drivers are actually cutting their speeds on this part of the road network.
"While this report only includes data up to 2010, recently released figures for 2011 underline the findings."
Copyright Press Association 2012