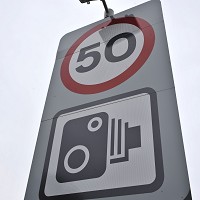 Thousands of motorists in the UK are being allowed to remain behind the wheel despite reaching their 12-point threshold, a leading road safety charity has warned.
The stomach-lurching feeling of being snapped by an unseen speed camera with nine points or more on your licence is at risk of being replaced with a shrug of the shoulders, according to the latest DVLA figures.
In total, 8,000 drivers in the UK - or 9% of those eligible to be banned - have reached the 12-point threshold but continue to drive legally, having escaped a ban in court.
Although in theory reaching the 12-point threshold automatically triggers a driving ban, the courts have a large degree of discretion and can choose not to implement a ban if doing so would cause the licence-holder "exceptional hardship".
However, it seems narrowly avoiding a ban only encourages some motorists, with one Cheshire driver given the green light to continue driving despite racking up a scarcely credible 36 points on their licence, The Sun newspaper reported.
Peter Rodger, of the Institute of Advanced Motorists, said: "If everyone thinks this is what happens, then the respect for the rules of the road will be removed."
Copyright Press Association 2013