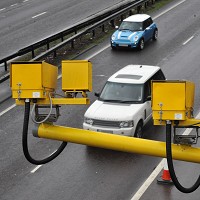 A number of motorists caught speeding are not being convicted because speed awareness course (SAC) data is not being passed on by three UK police forces, according to an insurance organisation.
The Chartered Insurance Institute (CII) claims that the attendance figures for courses that are independently organised by the Dorset, Hampshire and City of London forces are not being shared with the rest of the country on the national database.
Drivers can avoid a first punishment for a speeding offence by taking part in an SAC, but if they are caught again within the next three years a conviction is the only option. However, the CII believes there is a breakdown in the system, meaning that some drivers caught by the three forces for speeding are not being punished for a second offence.
David Williams, the chairman of the CII underwriting faculty board, said it was possible for a driver to "slip through the net" after being caught for speeding more than once.
He said the CII was keen to discover how many motorists who members of the public would think of as unsafe were avoiding a conviction, and he questioned whether the three forces that ran their own courses instead of the National Driver Offender Retraining Scheme were "undermining efforts to improve road safety".
Copyright Press Association 2013