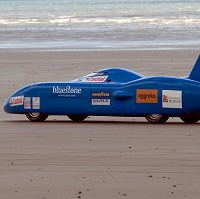 Next month one of motoring's most famous speed machines is going back to the scene of its record-breaking run 90 years ago.
Sir Malcolm Campbell's iconic 350hp Sunbeam broke the 150mph barrier for the first time.
Now Don Wales, his 54-year-old grandson, is marking the achievement by returning to the South Wales beach where Sir Malcolm made history.
Spectators setting their journey planner to Carmarthenshire's Pendine Sands will see a far more low-key Bluebird in action on Tuesday, July 21.
But they can look forward to seeing the old machine being reunited with her original nose . This was damaged during a US speed record attempt in 1960 and rebuilt in Coventry. But the old nose, which was taken away during repairs, has since been found and added on.
Louis Coatalen, Sunbeam's racing team manager and chief engineer, devised the vehicle, which was built at the firm's Wolverhampton plant between 1919 and 1920.
Its V12 aero engine was more commonplace in naval seaplanes, but was adapted to claim three world speed records.
Kenelm Lee Guinness's 133.75mph established the first benchmark in 1922 at Brooklands.
Then Sir Malcolm bought the car, renamed it Bluebird and set new marks with 146.16mph and 150.76mph in 1924 and 1925 respectively.
Mr Wales, who is contemplating period dress for the occasion, has inherited his grandfather's speed genes, being a respected land-speed record-breaker himself.
He says he cannot wait to get behind the Sunbeam wheel and wants to be the first driver to break the electric car 500mph barrier.
He plans to dress like his "remarkable" grandfather Sir Malcolm did 90 years previously.
Mr Wales thanked current owner Beaulieu's National Motor Museum in Hampshire for giving him the opportunity to steer the Sunbeam.
Lord Montagu bought the car in 1957 for his burgeoning collection and was the last man to give it a public outing in its then form during 1962.
This was during the Goodwood-based motoring festival. He gave a three-lap demo before Donald Campbell, son of Sir Malcolm, took it on a lap of honour.
A total overhaul last year enabled the machine to be fired up and heard by the public once more last year. A month later it was starred at Paris's Retromobile show.
Copyright Press Association 2015