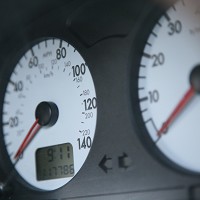 The Government has indicated that it will try to resist plans being considered by the European Union (EU) which would see cars fitted with devices to keep them within the speed limit.
New road safety rules being proposed by EU officials would see new cars having to incorporate systems which detect limits and automatically apply brakes when they are exceeded. Cameras or satellites - currently used to helpJourney Planner inquiries among other things - would inform the system of the relevant speed limits.
If the plans are approved, motorists may be faced with taking existing vehicles to garages to have the so-called Intelligent Speed Authority technology fitted, meaning no car on UK motorways would be able to travel above 70mph.
However, Transport Secretary Patrick McLoughlin, when asked by the European Commission for his views on such legislation, indicated that he would instruct UK Government officials to fight the proposal.
A Government source said: "It is definitely something that he is keen to resist and he has told officials that it is something we don't want to do. To be forced to have automatic controls in your car amounts to Big Brother nannying by EU bureaucrats."
Copyright Press Association 2013