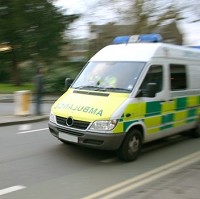 The Government has begun consultations on extending the number of emergency services allowed to break speed limits.
Existing legislation allows the police, fire and ambulance services to break the speed limit, but ministers are considering extending the scheme to allow additional services to be added to the list of exemptions.
Bomb disposal units, coastguard vehicles and those transporting organs for immediate transplant are among those being considered, while HM Revenue & Customs is also keen to be added to the revised list to help it combat crime.
Should MPs approve the plans, road safety legislation could be altered so that emergency drivers would be required by law to undergo high-speed training before being allowed to exceed the limit, although this would not affect current schemes run by police, fire or ambulance services.
Road Safety Minister Stephen Hammond said: "Police, fire and ambulance service drivers are highly trained individuals who are at times required to exceed the speed limit in order to save lives.
"It is only right that we look at allowing other services whose duties can mean the difference between life and death to exceed the speed limit when responding to emergencies."
Copyright Press Association 2012