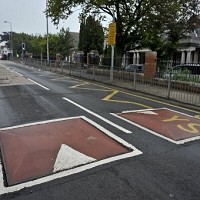 Do you yelp out in pain when you drive over a speed bump? If the answer is yes, you may have acute appendicitis, a team of researchers at Oxford University say.
The scientists, whose unusual research is published in the British Medical Journal, say the reaction can be indicative of the medical complaint.
And their findings have won the research recognition at the annual Ig Nobel awards ceremony in the US, a parody of the Nobel prizes which honours achievements that make people laugh as well as think.
Speed bump tests conducted by the team successfully identified 97% of people with acute appendicitis although they also threw up a number of false positive results.
The researchers say the test compares well with some commonly used features of clinical assessments and say the pain triggered by driving over the traffic calming features was associated with a greater likelihood of someone having acute appendicitis.
Other Ig Nobel awards were made to researchers who identified the most painful places to be stung by a bee and scientists who fitted prosthetic "dinosaur tails" on chickens.
Copyright Press Association 2015