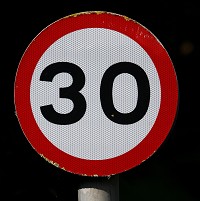 A local policing unit was somewhat taken aback when it received an telephone apology from a motorist who had been caught breaking the speed limit.
The Stockland Green area of Erdington in Birmingham was operating a community speedwatch operation and the driver had received a warning letter after being caught exceeding a 30mph speed limit.
Upon receiving the letter the driver telephoned the police to apologise personally and claimed he had been unaware of the 30mph speed limit.
PCSO Duncan Long, from the Birmingham North local policing unit estimated the unit had sent out up to 600 similar letters - but this was the first time they had ever been contacted with an apology.
No prosecutions are instigated by a community speedwatch scheme, which is simply an initiative aimed at raising awareness of speeding in residential areas.
However, details of the offending vehicles are retained and a warning letter is issued advising on the impacts of speeding, such as injuries, potential prosecutions and more expensivecar insurance .
PCSO Long said: "Exceeding speed limits can put other road users, pedestrians, and people living on these roads at risk. When motorists see us carrying out these speed checks, or receive a letter, they are reminded of this and will consider the safety of themselves and others in the future."
PCSO Long did, however, add that he didn't expect to receive an apology from every motorist.
Copyright Press Association 2013