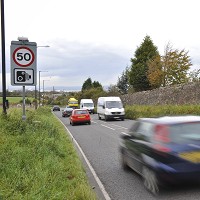 Almost two-thirds of drivers would be willing to let technology in their car automatically restrict their speed, according to Brake.
In light of the findings, the road safety charity is urging the Government to introduce intelligent speed adaptation (ISA) on UK roads.
ISA technology uses GPS in combination with a digital map of speed limits to prevent vehicles from going faster than they are legally allowed.
Brake believes the ground-breaking technology could eventually make other speed control measures unnecessary. It would ensure all drivers comply with speed limits at all times, preventing thousands of deaths and injuries every year, it says.
Motorists were asked whether they would be willing to have mandatory, voluntary or advisory ISA fitted to their vehicles.
The survey found that 32% of motorists would have mandatory ISA if it were free. This automatically reduces acceleration if the driver exceeds the speed limit, and cannot be overridden.
A further 31% would be happy to have voluntary ISA fitted for free. This automatically decreases acceleration if the driver exceeds the speed limit, but can be overridden.
A smaller percentage (23%) of drivers said they would be willing to have advisory ISA. This system alerts people when they are over the speed limit, but does not automatically reduce speed.
There are concerns that ISA could make overtaking difficult and congestion could worsen with everyone travelling at the same speed, but only 14% of drivers said they would be unwilling to make use of the technology in any form.
Controlled trials of ISA have predicted voluntary ISA could reduce road deaths by 21%, and mandatory ISA could cut deaths by 46%. Advisory ISA is less effective, but could still reduce fatal crashes by 5% and save 85 lives a year, according to Brake.
The charity wants car manufacturers to equip all vehicles with the technology and is calling for the Government to utilise ISA by producing a digital speed limit road map of the country.
A marketing campaign should also be run to explain the purpose of ISA, Brake adds.
Copyright Press Association 2015