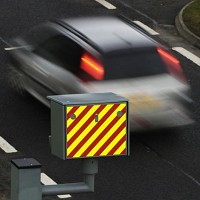 Costly speed cameras have been replaced by mobile cameras in the West Midlands, with budget cuts at the heart of the decision.
West Midlands Police decided, with the support of the region's councils on the Road Safety Partnership Board, to switch off 304 fixed cameras. The last one was turned off on Monday.
While councils paid for maintenance, the force was left with the expenses of running and managing the sites.
Mobile cameras are now in use at speeding hotspots in Birmingham, Coventry and across the Black Country.
Speeding not only puts lives at risk, but also leads to car insurance price hikes upon conviction.
West Midlands Police's assistant chief constable Garry Forsyth said: "The cameras currently in use require a major upgrade in order to remain effective and this would cost both police and local authorities a considerable amount of money at a time of a reduction across public sector budgets.
"However, we are committed to road safety and this is why we are due to increase the number of mobile speed cameras from April."
Copyright Press Association 2013