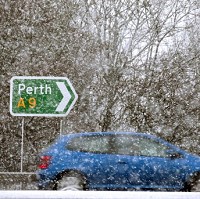 Installing speed cameras has helped reduce the number of people hurt in road accidents on the A9 in Scotland, new figures show.
Transport Scotland's A9 Safety Group say the number of injuries on the road's 138-mile stretch between Inverness and Dunblane more than halved during the six months after the cameras were put up in October 2014.
Four people died on the road over the same period - the same as the six-month average for the preceding three years - but police say it does not appear that excessive speed or overtaking were factors.
The figures show between October 2014 and March this year only three people were seriously injured on the A9, compared to the previous average of 10.
Those suffering minor injuries, meanwhile, was down to 22 during the six-month period from a previous average of 45.
The safety group says its analysis shows the cameras have helped trigger a big cut in the number of vehicles speeding on the road.
A spokesman says while the figures are encouraging it is still worried about the number of fatal accidents and will continue striving to improve safety.
Superintendent Fraser Candlish, of the road policing division at Police Scotland, says the figures show the vast majority of motorists are sticking to the A9's speed limits.
But he says speeding is not the only cause of road accidents, adding that high-profile traffic officers will continue to be deployed on the A9 to influence motorists' behaviour.
Copyright Press Association 2015