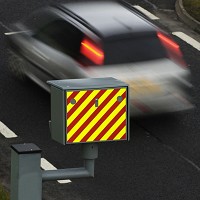 Speed cameras are now more tolerated by drivers than ever before, according to new research.
The Institute of Advanced Motorists (IAM) says 82% of people believe speed cameras are acceptable, and 85% think they have helped to reduce the number of fatal road accidents.
The IAM's annual speed camera survey also found that people feel generally positive about speed awareness courses, with 72% of people agreeing they were a good idea.
Good speed awareness is crucial for road safety, but avoiding speeding offences can also lead to cheaper car insurance quotes.
The figures show a drastic change in pubic opinion towards speed cameras in recent years.
In 2007, 30% of people believed speed cameras were not acceptable; a figure that has reduced to 16% this year.
However, the survey revealed a correlation between areas with higher numbers of recorded speeding offences and local attitudes towards cameras.
"Simply catching and fining drivers does not change drivers' awareness of the hazards of excessive speed.
"The popularity of speed awareness courses show that the public think training is the best option," said IAM chief executive Simon Best.
"Speed cameras are an essential part of the policing toolkit and are becoming more and more accepted, but it's clear that some people need reassuring about their purpose and funding."
Copyright Press Association 2012