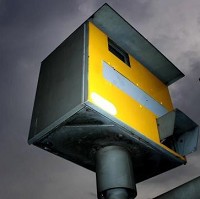 Motorists in London and the North East are the most opposed to speed cameras, the results of a new survey by the Institute of Advanced Motorists (IAM) suggest.
Across the country 79% of the drivers questioned by IAM say they back the use of roadside cameras to catch those who break the speed limit.
But among Londoners and motorists in the North East the proportions are only 69% and 70%.
Four years ago 85% of London drivers accepted the need for speed cameras, with 84% in the North East feeling the same way, suggesting there has been a big decrease in acceptability in those regions.
Fewer people now also back speed cameras in Scotland, Yorkshire and Humber and the North West, the survey's results indicate.
Fewer motorists now also think cameras are only put in accident blackspots. While more than two-thirds (69%) of drivers in the North East felt that was the case in 2014, the proportion has now dropped to just 37%.
More drivers, meanwhile, now appear to think raising revenue is the prime driving force behind speed cameras.
In 2011 nearly half (48%) those polled in London said they did not think money-raising was the motive. But that proportion has now slipped to just 29%, IAM says.
The institute's chief executive officer, Sarah Sillars, says while the majority of motorists accept that speed cameras help reduce the number of accidents, a growing number link them to raising money and believe they are not always installed in the best places.
Copyright Press Association 2015