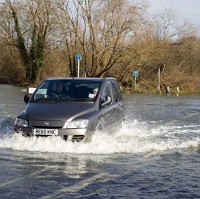 A special type of concrete could be used on roads in areas that are prone to flooding.
Topmix Permeable works by directing water off its surface and absorbing it almost immediately, meaning large puddles, which have the potential to cause serious damage to cars, could be a thing of the past.
A video posted online shows the concrete absorbing 4,000 litres of water in 60 seconds.
One downside, however, is that when the weather is cold, the water is likely to freeze in the material, which could cause cracks and damage to the concrete itself, putting road users at risk if the cracks are big.
The thinking behind Topmix Permeable is that it will minimise damage - and damage costs - caused by flooding.
Roads in residential areas are particularly susceptible to flooding, as the ground water has nowhere to go once the drains are full.
Copyright Press Association 2015