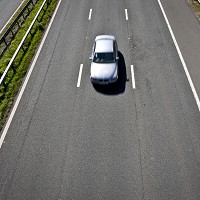 Middle lane hogging appears a bigger problem around London and the south east than anywhere else - with the M25 dominating a list of worst stretches.
And it seems half of all drivers are still unaware that the irritating driving habit is now an offence which could lead to a fine, even though 78% know they shouldn't do it.
Data released by the Highways Agency shows that five of the 10 most rife stretches of British road for middle lane hogging are on the M25 London orbital.
But the stretch of road between junctions 5 and 6 westbound on the M4 near Slough actually tops the list of hogging hotspots, with as many as 27% of drivers doing it there.
All of the other roads in the top 10 can be found in the south east of England on sections of the M4, M1 and M25.
Drivers aged 65 and above seem the most likely to admit to hogging the middle lane, with 59% doing so compared to 41% of 18-24-year olds.
Copyright Press Association 2014