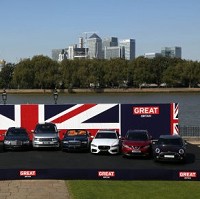 UK car manufacturers have come together to show off their new models ahead of next week's Frankfurt Motor Show .
The Society of Motor Manufacturers and Traders (SMMT) brought 10 cars together for a photo shoot, to preview their presence at the prestigious German car event (September 17-27).
The Society says the 10 vehicles underline the resurgence in the British automobile sector.
The cars featured against the backdrop of the London skyline on Thursday included the Vauxhall Astra, Aston Martin Rapide and MINI Clubman.
They were joined by the Nissan Qashqai, Honda Civic Tyre R and Toyota Auris Hybrid Touring Sports.
The Jaguar XF, Bentley Flying Spur, Rolls-Royce Dawn and Land Rover Range Rover made up the 10 Germany-bound machines at the South Bank photo-call.
Sajid Javid, the Business Secretary, hailed the car sector as being among the "brightest" players in the UK business world.
Calling the 10 motors on display "spectacular", Mr Javid praised leading carmakers assembled at Greenwich for their high rates of job creation, production, sales and exports.
He told them the Government is very "proud" of their "spectacular" achievements and said it will continue supporting them in everything they do, whatever circumstances and challenges they face.
Mr Javid thanked them for their ongoing investment in Britain.
This investment amounts to over £2 billion announced within the car industry in 2015 alone, says the SMMT. A total of 4,500 fresh jobs have also been pledged this year.
The industry accounts for nearly one-eighth of the UK's total exports (11.8%).
Mike Hawes, the society's chief executive, called the UK car sector "incredibly productive" and "competitive". Its motors are among the world's best and the industry is attracting lots of funding, he added.
Mr Hawes says the UK contingent hopes to "wow" people visiting next week's Frankfurt event, which he describes as among the most significant in the world.
The photo-shoot coincided with the day the 500,000th Qashqai rolled off Nissan's Sunderland production line .
It took only 21 months, beating the old 29-month record set by the Austin/Morris 1100/1300.
Copyright Press Association 2015