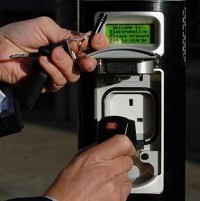 Source London has now hit the Mayor of London's target of offering 1,300 publicly accessible charging points.
The capital's electric vehicle charge point network and membership scheme was introduced two years ago. A consortium of more than 60 public and private partners, headed by Transport for London (TfL), has installed the charging points at over 300 sites across London in that time.
These points have been placed at supermarkets, shopping centres, car parks, hospitals and on streets, making it the largest urban charging network in Europe.
The electric vehicle market in the capital has now grown enough to encourage private sector companies to invest in electric vehicle charging in London and move the scheme forward. This means public subsidy will not be required.
TfL has called for potential bidders to come forward so they can operate and manage the scheme.
Matthew Pencharz, Boris Johnson's environment and political advisor, said: "The Mayor's plans to make London the electric vehicle capital of Europe have been given a flying start with the installation of charging points across the city through Source London.
"The scheme has made big strides in supporting the capital's electric vehicle revolution, which is helping to improve air quality, reduce carbon emissions and deliver jobs and growth."
Copyright Press Association 2013