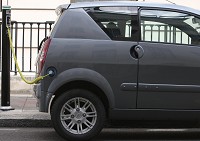 A sound system has been designed so pedestrians can be alerted to the approach of electric vehicles.
The system, which was jointly developed by engineers at Lotus and audio specialist Harman International, allows users to choose from various engine sounds.
Andy Mackay, Lotus engineer, said the technology, which matches the sound to the speed and acceleration of the vehicle, comes amid growing concerns over silent or extremely quiet vehicles causing accidents with pedestrians.
The technology, which has already been demonstrated on a Toyota Prius hybrid car, is the first among the active noise control technologies developed by the two companies.
The firms are also planning to launch a road noise cancellation system that would cover up noise created from the tyres and the road.
Accelerometers will be used to detect noise-inducing vibrations and correction signals will be broadcast through a car's speakers to mask noise.
Meanwhile, the US and Japan are considering the introduction of legislation to set minimum levels of noise for cars, while the UK government planning to hold a debate on the issue in the near future.
Copyright © Press Association 2009