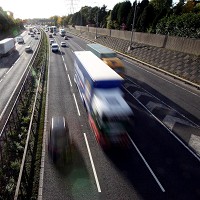 Almost three in five drivers have been involved in near misses with unobservant road users, according to new research.
The study, produced by driver training organization IAM, found that 58% of drivers were cut up last year by motorists who did not look properly before manoeuvring.
Such incidents have been dubbed as Sorry Mate I Didn't See You (SMIDSY) encounters.
Failing to properly check a car's surroundings is one of the most common causes of collisions, with 29% of serious crashes and 36% of minor bumps attributed to a lack of concentration.
When questioned as to the reasons for the regularity of accidents caused by failure to look, motorists said that better awareness of cyclists and motorbikes should be instilled among car drivers.
Commenting on the findings, IAM chief executive Simon Best said: "SMIDSY moments are happening far too often, and very few people are prepared to take responsibility for their part in them.
"It's always someone else's fault. All road users need to be aware of who they are sharing the road with, and the risks they present."
Drivers are reminded that as well as pre-manoeuvre checks, pre-journey checks are a vital part of car ownership.
"Pre-journey checks that should be carried out regularly include oil levels, tyre wear and car insurance cover."
Copyright Press Association 2012