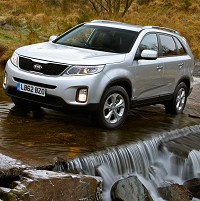 The new Kia Sorento has landed a third successive Total 4x4 magazine award.
The Sorento missed out to the new-look Range Rover in the "Full-Size" category, having received the honour twice before, but made up for it by picking up a special award for being the "Most Improved" nominee.
Total 4x4 editor Alan Kidd said: "The Sorento has won its class in each of the last two years, beating a whole range of premium opposition in the process. This year's upgrades move it closer than ever to becoming a premium SUV itself."
Kidd praised Kia for taking on board the minor criticisms of the old model. The Sorento now includes a new platform, modified engines and enhanced interior quality to complement a stylish, more modern exterior.
"The Sorento was already one of the best 4x4s on the market - now it's better than ever, and by a long way. Nothing less than an all-new Range Rover could stop it from completing a hat-trick of class wins, and that says a lot about just how good Kia has become at making world-class 4x4s," Kidd added.
The Sorento launched in Britain and Europe in September. Any interested buyers should ensure they shop around before making a decision on car insurance.
Copyright Press Association 2012