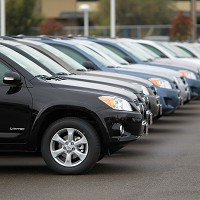 Drivers who own an SUV may be able to make a return on their investment, new figures suggest.
CAP Black Book's latest report shows that models such as Toyota's second-generation Rav4 diesel have gained in price this month.
The same applies to the M Class from Mercedes and Suzuki SX4s built before 2006 and 2010 respectively.
The trend towards older makes holding or even increasing in value looks set to carry over in the run-up to Christmas, according to CAP Black Book's senior editor Derren Martin.
No other body styles have lost their value so markedly than superminis and city cars. Experts believe that this shift will trickle down into dealerships prices over the longer term as showrooms bring in new supplies.
The values of soft-tops, which traditionally fare well over the summer months, have also dipped over November with the colder weather restricting its popularity.
Martin thinks that next year will see additional downward price pressure as more and more pre-loved vehicles hit the supply chain.
But he does believe that that there is hope that prices may level out at the start of 2016.
Copyright Press Association 2015. Motoring News articles do not reflect the RAC's views unless clearly stated.