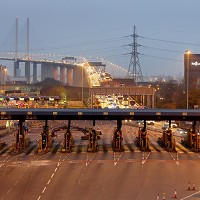 Around one in seven motorists may be dodging the new Dartford Crossing payment scheme which has replaced the famous old toll booths, it has emerged.
The Highways Agency said that since the introduction of the new scheme - known as Dart Charge - around two million crossings had been made during the 6am-10pm chargeable period.
About 15% of 2 million M25 journeys across the Queen Elizabeth II Bridge have not been paid for during the scheme's opening month. This river-crossing paying percentage on the country's busiest motorway is over double the original failure-to-pay prediction of 7%.
Drivers setting their journey planner to the crossing have been given alternatives such as postal, phone and internet payment since the booths were scrapped at the end of last month. Car charges jumped by a quarter to £2.50 amid concerns that motorists would evade payment under the new scheme.
And the Highways Agency's announcement on Wednesday indicates that payments for 15% of the crossings have not been settled.
Drivers have until the end of the next day after their crossing to pay. If they do not, they face a £70 penalty. This amount halves to £35 if it us settled in under two weeks. It rises to £105 when payments are not collected in under four weeks.
The Agency said it would be exercising extra leeway towards non-payers while drivers get to grips with the new system.
An agency spokesman said: "This has been a big change so it is great that the vast majority of drivers have paid the charge. We want to give all drivers the opportunity to pay and comply with the scheme."
Copyright Press Association 2014