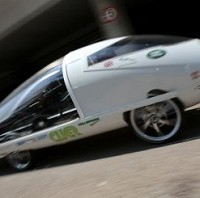 The race to find the world's fastest solar-powered car has started.
A total of 46 motors from 25 different countries launched their assault at this year's World Solar Challenge in Australia on Sunday October 18.
The contest from Darwin to Adelaide pits drivers and their machines against some of the planet's most gruelling terrain across a 3,000km course (1,864 miles).
The biennial race ends in South Australia on October 25. But some teams are expected to finish earlier, with the quickest likely to complete the course on October 21, officials say.
Hundreds of well-wishers lined the roads to wave off the racers, headed by the Stella Lux car from the Netherlands.
A Cambridge University team is helping to bolster Britain's attempt to land the title. The 60-strong team is behind the Evolution solar-powered machine.
The contest aims to showcase solar-powered vehicle research with the ultimate goal of making such cars commercially viable.
Among the categories where prizes are up for grabs are cruisers, for cars with two seats, and challengers, for smaller, single-driver machines.
Besides the entrants from universities, there are some teams from schools, including Japan's Goko high school, which is competing in the Musoushin car.
The tactics of the teams are diverse. Some are focusing on solar panel efficiency, while others are concentrating more on aerodynamics.
Competing vehicles are permitted to store no more than 5kWh of energy for any given period. This is around the amount of energy needed to keep five light bulbs operational for roughly eight hours.
Previous winners Team Nuon failed to secure a pole position, though the team's Bianca Koppen claimed this is not a big worry.
Copyright Press Association 2015