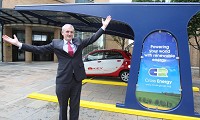 Belfast is to get its first solar-powered car charger after an Armagh firm secured the franchise for drive-in chargers.
The distinct lack of sunshine in the city gave Cross Group's Joe Conway the opportunity to dispel a common myth. He explained: "You don't need the sun to run a solar powered car. All it needs is daylight, it's a common misconception that you need to see the sun.
"It's like your calculator, can you ever remember it not working just because the sun wasn't out?"
The commercial director of the firm hopes that with major car manufacturers putting more efforts into developing electric cars, the charger trade will take off in a big way.
Demonstrating his machine, Mr Conway added: "It's only a matter of time before we see electric cars all over the place. All the main car companies will be selling electric models within five years."
Although the chargers come with a price tag of around £30,000, prospective clients such as supermarkets, universities and multi-storey car parks will view them as long term investments.
Copyright © Press Association 2009