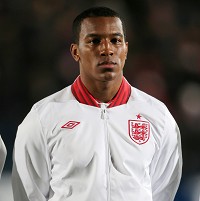 England Under-21 defender Andre Wisdom found himself in a sticky situation on Saturday when he got lost on his way to a match and found himself stuck in mud.
The Liverpool player, who is on loan to Championship side Derby County, was making his way to Pride Park ahead of the Rams' match against Sheffield Wednesday but needed to use the sat-nav in his Porsche Panamera after stopping off at a local shop, a club spokesman revealed.
Wisdom's route took him down a muddy track and his car became stuck. Images later revealed to the world via social media show his Porsche up to its bumper in mud.
The spokesman said the club arranged for him to be picked up and taken the rest of the way to the ground in plenty of time for kick-off and the car was later towed out by a breakdown service.
Despite his earlier mishap Saturday proved to be a good day for Wisdom and his club, as they ran away 3-0 winners.
RAC spokesman Simon Williams said: "We receive a number of calls every year from people who have followed their sat-navs a little too closely, only to find they've been taken up some sort of dead-end track.
"While sat-navs are a great technological advancement that save us a lot of time and hassle, they are not infallible. The accepted wisdom for using a sat-nav is to employ a healthy mistrust and question directions if the road starts to look at all unusual."
Copyright Press Association 2013