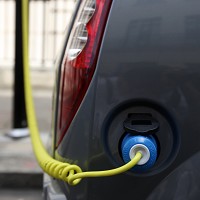 Motorists are increasingly ditching petrol and diesel cars in favour of electric and hybrid ones, new figures suggest.
A total of 20,992 drivers in the UK bought a plug-in vehicle between January and September this year, according to the Go Ultra Low campaign, up 139% on the same nine-month period in 2014.
Mitsubishi's flagship Outlander PHEV is the most popular, with 9,303 models sold so far in 2015. The Nissan Leaf is second, with 4,285 registrations, followed by BMW's i3 at third with 1,564 sales.
But these are just three of more than 27 pure electric or plug-in hybrid cars on the market in the UK at present.
Poppy Welch, head of Go Ultra Low, describes the growth of plug-in car registrations as excellent news.
She says the rise in sales is in line with the campaign's expectations and expects to see the trend continue over the rest of the year as motorists are keen to achieve maximum miles for the lowest cost.
The Government wants the proportion of registrations of new cars with ultra-low emissions to reach 5% by 2020. It currently stands at 1% this year, up from 0.44% in the same period last year.
Go Ultra Low is a campaign for plug-in vehicles backed by the Department for Transport and the Society of Motor Manufacturers and Traders.
Copyright Press Association 2015