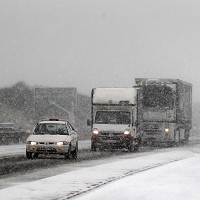 Motorists numbering in the hundreds were stuck in their vehicles in freezing temperatures when snow blocked the movement of traffic.
Drivers spent hours in long traffic queues due to icy conditions and snow that made South East roads largely impossible to traverse. A number of vehicles were involved in accidents or sufferedbreakdowns , as wintry conditions took their toll on engines and roads.
Reports said that some drivers were trapped for over 10 hours in tailbacks as long as 30 miles, while gritting lorries, snow ploughs and police worked fervently to clear the roads.
As temperatures fell to -3C, or 27F, many drivers left their cars on the road while they sought shelter in service stations.
A group of 120 students from Germany stayed in a Hastings town hall when the families responsible for caring for them could not reach them due to the weather conditions.
The young students had no choice but to spend the night in the hall, though volunteers came and offered tea and coffee.
Sussex and Kent were the most affected areas with the A23 between Kent and Crawley completely stopped. Also at a standstill were the M23, A26, A27 and A29 following a snowfall of 4in, or 10cm.
Copyright Press Association 2013