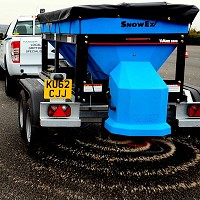 With weather forecasters predicting wintry temperatures for the weekend, road gritting and snow clearance teams are on alert.
As schools prepare to close for the half-term break, temperatures are set to plunge to just above freezing on Friday and Saturday.
As snow is forecast for Scottish mountains and sleet is expected in other regions, the Gritit company has held a training programme at Donington Park race track in Derbyshire on how to prevent skidding.
The company said in a statement: "With forecasters predicting a significant drop in temperatures this weekend, we are expecting our teams to be out gritting for the first time this season."
Nikki Singh-Barmi, Gritit's operations director, also commented: "The driver safety training day at Donington is part of our annual preparations for the coming season.
"By the nature of their job, our drivers are required to be on the road during the most challenging and sometimes treacherous conditions, so it is vital they have the skills needed.
"We have a duty of care not only to our team and clients, but also the general public, and by introducing this practical training two years ago we've significantly reduced the number of incidents our drivers are involved in."
During the training programme, drivers are given a breakdown on how to control a skid, the best practices for spreading salt to de-ice roads, as well as how to "read" the weather.
Copyright © Press Association 2012