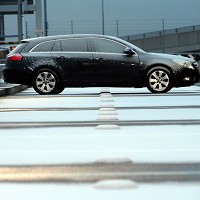 Snow has begun to fall across England with as much as 10cm expected in some regions, raising concerns of transport and road delays.
Many regions in England and parts of Wales have been preparing for snowfall, while the heaviest snow is expected to hit the Midlands and east-England.
Meteorologists have moved the cold weather warning system in England up to the third level, one below a national crisis, calling for the NHS to prioritise people at higher risk of cold-related health problems.
It said: "This weather could increase the health risks to vulnerable patients and disrupt the delivery of services."
Several yellow alerts have also been imposed in Britain to warn commuters that travel delays are possible due to the exceptionally cold conditions.
Up to 10cm of snow is expected in Lincolnshire and north-east England, and up to 5cm in the Midlands and east-England, with temperatures of approximately one degree.
Nick Prebble, a forecaster for MeteoGroup, the weather department of the Press Association, said: "Most places in England will see a good dusting of snow this morning, but a heavier fall will come later in the day for central and eastern England."
Copyright Press Association 2013