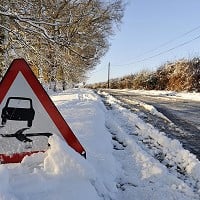 The snow and ice which hit large parts of Britain at the beginning of this year led to the lowest road traffic levels for over a decade, according to new statistics.
Initial figures from the Department for Transport reveal that motor vehicle traffic in Britain dropped by 2.3% to 74.7 billion vehicle miles in the first three months of 2013 compared with the same period in 2012.
The last year in which figures were lower for that quarter was 12 years ago.
The data reveals that heavy goods vehicle traffic fell by 3.8% while car traffic dipped by 1.9%, along with light vehicle traffic.
Other motor vehicle traffic, a category which takes in motorcycles, buses and coaches, went down by a whopping 19.2%.
Traffic on rural roads fell 2.5% while on motorways it was down 0.7%. The decline on urban roads was 2.9%.
A large number of roads were blocked during periods of heavy snowfall and many motorists had to call on their breakdown cover to get moving again, as the Department for Transport advised against any journeys that were not essential.
A spokesman added: "An important factor affecting traffic appears to have been the heavy snowfall and icy conditions in many areas of Great Britain in the first quarter of 2013, dampening the traffic volumes."
The department said the figures were not as bad as during another notoriously snowy period between October and December 2010.
Copyright Press Association 2013