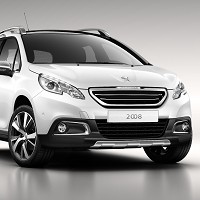 Drivers have been treated to their first sight of the new Peugeot 2008 supermini crossover, which will be showcased for the first time at the Geneva Motor Show in March.
The 2008 aims to capitalise on the growing market for crossovers in the C-segment such as the French car maker's own 3008, combining the platform and engines of the 208 with a more elevated driving position.
With a length of 4.16m and a height that comes close to a compact SUV, the Peugeot 2008 will come in a range of specifications, although exact details are yet to be released.
What is known is that the 2008 range will feature at least one sub-100g/km engine for road tax-free motoring.
The vehicle will have alloy wheels of up to 17 inches in size and drivers will also have the option of so-called "mud and snow" tyres.
In terms of look, designers appear to have tied it in with Peugeot's famous lion badge, the front end of the vehicle's headlights evoking a cat's pupil.
Copyright Press Association 2013