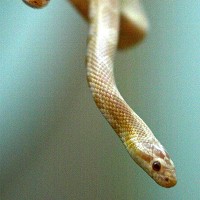 A corn snake gave mechanics a whole new meaning to the expression "jump start", appearing from nowhere as they tried to fire up a Fiat Punto.
The 2ft reptile greeted the shocked servicemen as they pulled up the bonnet of the car they were working on in Fife.
It is believed the snake may have got into the engine on Saturday from a sewage plant pipe where it had probably been feeding on mice.
Scottish SPCA charity officers set their journey planners to Kelty's North Road Garage after being summoned by staff. Stacey Jamieson, an animal rescue official, thinks the garage's heat attracted the snake, which has since been named Punto.
She says it is fortunate that the snake was found before he could be seriously damaged by the vehicle being driven off.
Ms Jamieson wants to reunite Punto with his owner, if he has one, and will try and re-locate him if he hasn't.
The creature is presently being cared for at a Balerno rehoming centre.
Copyright Press Association 2014