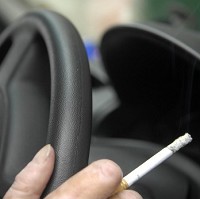 A new Scottish law would see anyone caught smoking in a car with a child passenger handed a £60 fine.
Ministers hope that the new measure will eventually lead to people "policing themselves" when it comes to choosing whether or not to smoke around youngsters.
The Smoking (Children in Vehicles) Bill is currently in consultation, but if it is made into legislation, any driver or passenger caught smoking a cigarette in the car will be given an on-the-spot fine.
Road police will be on the lookout for cigarettes and children, along with those using mobile phones while driving and those not wearing a seatbelt.
Research shows that chemicals which are linked to cancer are nine times higher than safe levels in smokers' cars. Many believe that by opening a window the dangerous chemicals will escape but in fact the concentration actually rises, increasing the likelihood of sudden infant death syndrome and asthma.
The proposal to ban smoking in a car when a child is present is part of the Scottish Government's bid to make the country smoke-free by 2034.
Liberal Democrat health spokesman Jim Hume said that similar schemes in other countries such as Australian, South Africa and Canada had been easy to enforce and shown good results.
However, the move has attracted criticism from smokers' groups. Simon Clark, director of Forest, said: "A ban on smoking in private vehicles would represent a major intrusion into people's private lives. What next, a ban on smoking in the home if children are present?"
Copyright Press Association 2013