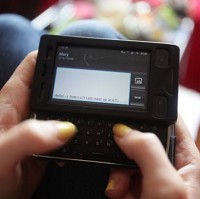 Hyundai has revealed plans to introduce technology which will allow motorists to use their smartphones to wirelessly open their vehicle.
Drivers will also be able to use their smartphone to stream data and entertainment to the car's main screen.
Hyundai has built an i30 with new gadgets to enable drivers to open their car using near-field communication technology. A customisable range of data or music choices is available by placing the phone into a dedicated cradle in the centre console, which will also recharge the phone battery.
As the system only uses data and instructions from the user's own phone, more than one person can use it with no change in functionality.
Allan Rushforth, senior vice president and chief operating officer of Hyundai Motor Europe, said the company's connectivity concept, which will be available in 2015, showcases the brand's "philosophy of making tomorrow's technology accessible to a wide range of customers".
"As the technology continually develops, there will be capabilities to store driver's seating positions and exterior mirror settings, providing customers with a comfortable and individual driving environment," he said.
Copyright Press Association 2012