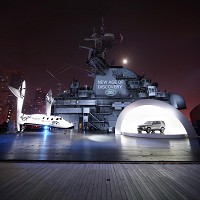 Land Rover has presented a successor to its Discovery model which can be driven at very low speeds via a smartphone.
The Discovery Vision Concept includes several technological innovations, such as the ability to "see" under the car via a display on the windscreen as part of its Transparent Bonnet technology.
The car also comes with infrared sensors in the foglights which can map the terrain ahead and display the image on a screen, and features such as low-speed steering assist and Hill Descent Control.
Another major breakthrough is the use of "smart glass" in the car, which means that the glass itself can show imagery while being otherwise completely transparent.
Eye-tracking sensors help the glass to display information based on what the driver or the other occupants of the car are looking at, for example details on a landmark that appears on the side of the road.
The information can also be sent on to a smartphone or tablet by swiping the window while the information is displayed.
The Discovery Vision Concept is being presented at this week's New York motor show.
Copyright Press Association 2014