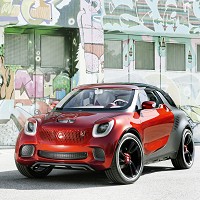 Designs for the latest model of the smart car have been unveiled ahead of its premier at the Paris motor show. The new model, called the forstars, is designed with room for two people and plenty of storage space.
The name for the model refers to the glass roof above the passengers, allowing them to get a clear view of the sky above them, but commentator has suggested it also hints at the integration of a video projector in the front bonnet.
Breakdown cover providers will be interested to learn more about the mechanics of the car, which include a 60kW magneto-electric motor.
Designers of the vehicle, which comes in a "alubeam rouge" colour, said the zero emission smart forstars will provide more agility for drivers when out on the roads.
Dr Annette Winkler, smart boss, said: "The smart is Europe's most inexpensive series-produced electric car. "Not only is it emission-free and fast, it is also possible to conveniently set the perfect interior temperature in advance with a smartphone, and it is simple to charge at a domestic socket.
"What's more, with its powerful battery and integrated projector the smart forstars can transform any grey backyard into an animated open-air cinema."
The Paris Motor Show takes place between September 29 and October 14.
Copyright Press Association 2012