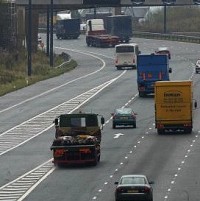 Smart motorways contractors should pool their new knowledge with others, the network's director is urging.
Andy Watson warned that companies chosen would only receive "everybody wins" cash incentives if they do so. His call comes only a week after £1.55 billion's worth of smart motorway contracts were handed out.
Mr Watson does not want building firms to keep their ideas to themselves because if one scheme "suffers", everybody suffers.
This programme approach means it will be in contractors' interests to work together, he added.
Last week's contracts were the biggest dished out since April saw Highways England 's arrival as a Government-owned company.
Last month the agency announced that recovery units have helped 3,690 drivers since the Greater Manchester project involving parts of the M60 and M62 started 12 months ago.
Three partnerships have collected nine projects over three years.
Mr Watson says the new "everybody wins" scheme will see incentive cash split across three different routes.
Some will go straight to contractors and Highways England will get back a proportion. The remainder will go towards a so-called "programme-gain pool". This is a shared kitty which is split throughout contractors working for the framework.
This, says Mr Watson, means that if the whole project delivers results all the contractors will gain financially in the end.
A tie-up between Vinci and Balfour Beatty, split six-to-four in the latter's favour, was the biggest winner under last week's contract awards. The partnership secured £607.4 million worth of work spanning across the Midlands, Worcestershire and between Berkshire and London.
A £475 million smart motorway contract for the M23, M20 and M6 was given to Kier and Carillion. Galliford Try and Costain won a £300 million deal to bring the scheme to the M1.
These new every-lane smart motorways are aimed at easing jams and raising capacity on 470km of highways. They will do this by vehicle speed-controlling new tech and transforming current hard shoulders into additional lanes.
The RAC has issued guidance on smart motorways and how to use them .
Copyright Press Association 2015