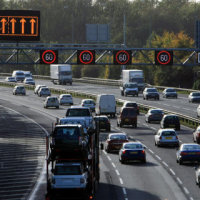 A decision by MPs to review the distances between emergency rescue areas (ERAs) on all-lane running smart motorways has been welcomed by the RAC.
And the motoring organisation is urging members of the Commons' Transport Committee to help ensure that motorways remain the country's safest roads.
The committee has been looking at how all lane running schemes on sections of the M1, M4, M5, M6 and M42 and M62 have been working.
RELATED CONTENT: Everything you need to know about smart motorways
They involve either the permanent conversion of hard shoulders into extra lanes or their partial use as part of managed schemes.
The committee has decided to review the distances between ERAs and push ahead with a public information drive to educate motorists about how to drive on smart motorways.
The RAC says having consistently raised concerns about the "lengthy spacing" between ERAs on all lane running stretches of motorway, it is "extremely good news for motorists' safety" that the issue is to be reviewed.
It says its survey of drivers who have broken down on all-lane running stretches of the M25 suggests that only 42% knew that ERAs existed. Little over a quarter (28%) of those questioned, it adds, could actually see one from where they had broken down.
Pete Williams, the RAC's head of external affairs, says: "Clearly this indicates that better signage of ERAs should be a priority on existing and future stretches of smart motorways.
Mr Williams says a public information programme about smart motorway driving is "clearly needed", particularly in view of figures showing that nearly one in 10 (8%) drivers ignore red 'X's indicating that a motorway lane is closed.
He adds: "With no hard shoulder, the safety of a motorist who has broken down depends on other drivers complying with red 'X's that indicate a lane is closed. While 92% red 'X' compliance appears high, there has to be a real concern about the remaining 8% that ignore the overhead signage thus increasing the potential for a serious accident.
"Every step should be taken to ensure that motorways do not lose their status as the UK's safest roads."
Copyright Press Association 2016. Motoring News articles do not reflect the RAC's views unless clearly stated.