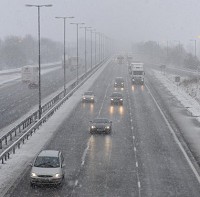 Motorists who use a Northamptonshire stretch of the M1 will be the first beneficiaries of England's latest addition to the smart motorway revolution .
Work worth £65 million will begin this autumn on the 14.8-mile (23.9km) section between junctions 16 (Daventry) and 19 (Kettering/Corby/Felixstowe).
Highways England has named Galliford Try as the construction company charged with delivering the programme in tandem with Costain .
Galliford Try's £1.55 billion deal entails building an additional 292 miles (469.9km) of additional motorway lanes. The programme will see hard shoulders converted for use by traffic.
The "smart" element comes in by harnessing technology and signage to inform motorists of the speeds at which they should drive. This will also tell them about lane blockages, closures and any incidents ahead.
Smart motorways will then be incorporated into two other stretches of the M1.
Costain and Galliford Try will integrate the scheme on the 5.6-mile (9km) East Midlands stretch between junctions 24 (Nottingham/Birmingham) and 25 (Derby/Nottingham).
Next up will be the 22.7-mile (36.5km) section between junctions 13 (Milton Keynes South/Bedford) and 16 (Daventry).
A combined maximum value of £302 million has been placed on these two construction projects with work likely to begin between April next year and March 2017. This is conditional on target costs being agreed.
Greg Fitzgerald, Galliford Try's executive chairman, expressed the company's "delight" at securing more work from Highways England. Mr Fitzgerald said the firm's highways sector is improving all the time and is one that will be important to its fortunes in the years ahead.
The West Midlands' M42 was the UK's first carriageway to benefit from the smart motorway technique nine years ago.
Copyright Press Association 2015