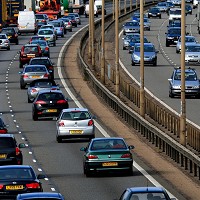 Motorists in England could be pouring close to £7 billion down the drain every year thanks to inefficient driving, the Energy Saving Trust said.
As much as £270 could be saved on average by individual motorists each year through following some simple hints and tips.
Keeping your tyres correctly inflated, reaching a higher gear earlier, lighter acceleration and simply slowing down could all add up to substantial savings. Taking off roof racks when they are not needed, keeping the air-con switched off and even turning the engine off if you are stuck in traffic was also recommended by the trust.
Evenplanning your route properly could also be a money-spinner in the long term. Motorists could save 74p per day if they follow smart driving techniques, if they drive the average 8,347 miles annually.
Tim Anderson of the Energy Saving Trust said: "Smarter driving techniques are easy to adopt but can make a huge difference at the pumps, which is more important than ever in these tough economic times. If every driver in England adopted the trust's tactics, they could save around £6.6 billion a year."
Copyright Press Association 2012