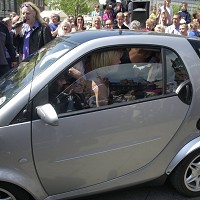 Some of the most compact cars in the country will draw crowds to Beaulieu National Motor Museum on Remembrance Sunday when its popular Simply Smart event returns for a second year.
The unique event has been organised at Beaulieu with an open invitation for Smart car owners to bring their cars to congregate at the museum.
It is also intended to mark Remembrance Sunday and there will even be a special Smart car bearing a red poppy design.
The first event was a huge success and a high turnout is expected at this year's event on November 11. Members of the SmartManiacs owners club are among the drivers planning to attend.
Smart car drivers travelling to the event from far afield may find ajourney planner useful, even thought the Smart car is well-known for its fuel economy.
As a mark of respect, there will a pause for two minutes of silence at 11am, which the museum invites all visitors to participate in.
Copyright Press Association 2012