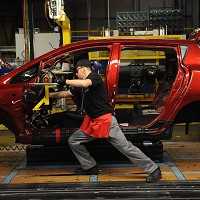 Car production in the UK fell slightly in October, although the industry remains on course for a bumper year.
Figures from the Society of Motor Manufacturers and Traders (SMMT) reveal a 0.7% drop year on year.
A total of 148,976 cars rolled off production lines nationwide last month, down from 150,060 during the same month in 2014.
But production levels for the first 10 months of the year still hit the highest point since 2005. Some 1,318,452 cars have been produced to date, up 2.8% on the 1,282,080 in the first 10 months of last year.
Global demand remains high, with more than one million British-built cars shipped overseas so far in 2015.
SMMT chief executive Mike Hawes says the UK automotive industry has delivered a robust performance and is in a strong position, despite the recent slowdown witnessed in several key global markets.
He describes the reduction in overall output in October as a "small drop".
Motoring News articles do not reflect the RAC's views unless clearly stated.
Copyright Press Association 2015