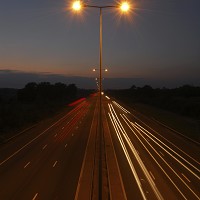 A man who drove 100mph on a motorway before crashing while twice over the drink drive limit has swerved a jail sentence after he told a judge that he was sleep driving.
David Hamnett, 47, of Ormskirk, Lancashire, had drunk wine and whiskey before driving off in his Volvo S40. He drove 150 miles as fast as 100mph before colliding with another car and smashing into the central partition of the M5 in the early hours of July 9, 2011, Shrewsbury Crown Court was told.
The emergency services cut Hamnett from the vehicle and found him wearing just a T-shirt and jogging bottoms. Speaking in court he said he had walked to his car in his sleep and then took his regular weekly commute from his home to Devon. He said he must have been asleep until he crashed in Worcestershire.
After being given abreakdown of the case, sleep expert Dr Chris Idzikowski, director of theEdinburgh Sleep Centre , said he considered it "very unlikely" that Hamnett, a marine engineer, could have been asleep at the wheel without being involved in a crash for the two hours it took for his journey to eventually come to an end.
Judge Peter Barrie accepted that Hamnett did have a genuine sleep disorder and that it was possible that he could have got into his car while he was asleep, but he said it was likely that he woke up at some point and carried on with his journey. Hamnett was given a 12-month community order after being found guilty of dangerous driving and handed a six-month driving ban. He must also take an advanced driving test.
Copyright Press Association 2013