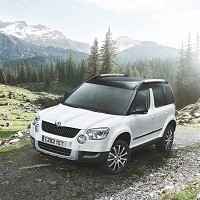 Skoda's highly-acclaimed Yeti has been crowned as the Best Value SUV on the market for the second consecutive year, courtesy of respected off-roader magazine Total 4x4.
The magazine was forced to revise certain categories to reflect the increased competition faced by the Skoda Yeti last year, but it held on to add two more gongs to those picked up in 2011 and 2012.
Event organisers hailed the Skoda Yeti's combination of practicality and versatility both on and off-road as it fended off the opposition to retain its 'Special Award for Best Value'.
Skoda also regained its prestigious '4x4 of the Year' title, which it won for the first time two years ago at the same time as it scooped the award for best 'Crossover'.
Alan Kidd, Total 4x4 editor, said: "By changing the categories the Skoda Yeti found itself up against a whole new group of competitors. It took them all on and came out top, displaying the same qualities that have been winning it awards since it was launched.
"In the past year more than most, we have seen more vehicles coming into the market that represent outstanding value for money. But in terms of how good it is, how well made it is and what it offers, the Skoda Yeti it still untouchable."
Copyright Press Association 2013