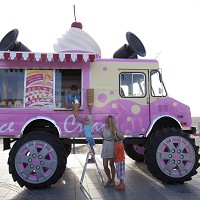 Czech car manufacturer Skoda has taken the UK's love of an ice cream on a summer day to extremes, by creating a super-sized ice cream van to celebrate the launch of its new Octavia vRS.
The fastest ever Skoda is featured in a new TV advert scheduled to hit the screens on Sunday 25 August. Joining the Octavia vRS in the advert is the giant ice cream van, measuring over 21 feet and weighing over 5.5 tonnes, it took three weeks to create and will now be touring the UK giving out free ice cream to the public.
First stop for the giant ice cream van is the Bournemouth Air Festival (Thursday 29 August to Sunday 1 September) before it heads off to the Royal County of Berkshire Show at Newbury (Saturday 21 September and Sunday 22 September).
After that, the ice cream van might need ajourney planne r installing as it will be appearing at various 'King of the Mountains' stages of the Tour of Britain. To find out exactly where, follow @SkodaUKCycling for more information.
Commenting on the link between the new Octavia vRS and the ice cream van, head of marketing at Skoda UK, Heidi Cartledge, said: "The Octavia vRS is not your average family car, and so we created an ice cream van that is also far from average! The giant ice cream van will be touring the UK handing out up to 6,500 servings of free ice cream, offering members of the public a fun sense of what you could experience if you vRS'd your life".
Copyright Press Association 2013