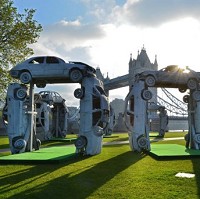 Motorists can pick up a Skoda in a 0% finance deal, with the Citigo city car available from only £69 per month, including three years' free servicing.
The interest-free Personal Contract Purchase deal sees drivers pay approximately 30% of the total up front and £69 each month over the next three years.
Motorists searching for a family car can buy an Octavia under the same deal.
After paying almost a third of the asking price, buyers are committed to paying £149 a month.
The vehicle comes complete with a DAB radio, a touchscreen infotainment system and Bluetooth connectivity, as well as a spacious boot.
Buyers can choose how much they offer as a deposit depending on their situation.
Drivers keen to get their hands on a Skoda should check car insurance prices before signing up to ensure they can manage that extra cost.
Skoda UK brand director Alasdair Stewart said: "Our customers can benefit from excellent low monthly payments on models in each of our car lines.
"The classic Skoda value for money continues with the additional 0% interest offer.
"On top of that, customers can travel at ease with up to three years' free servicing."
Copyright Press Association 2013